Thank you for your submission. Your personalized homepage experience is available here. You may edit your selections at any time.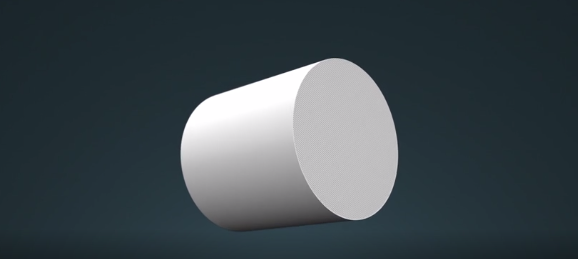 Heard of desiccant? Desiccant is a drying agent (silica gel is an example) that is used not only to keep products like shoes and electronics dry, but also to dry compressed air! In a compressed air system, desiccant beads are used in desiccant dryers (a.k.a. adsorption dryers), where compressed air flows through towers filled with thousands of tiny desiccant beads. The beads adsorb and store moisture in millions of very tiny pores, and when the desiccant is heated back up, the moisture evaporates and the desiccant material can re-used.
Introducing Structured Desiccant
At least, that's how traditional desiccant dryers work! A new drying technology, known as Cerades™, uses structured desiccant. Instead of small desiccant beads, Cerades™ consists of solid ceramic blocks that dry the compressed air as it flows through straight, structured tubes. Because the air flow meets very little resistance, this process is much more energy efficient. Other benefits of structured desiccant include:
Longer Lifespan. There are no decomposing desiccant beads in structured desiccant, which increases the lifespan. The expected lifespan of Cerades™ desiccant is seven years, as compared to the three to four years lifespan of traditional desiccant.
Drying Capacity when Wet. An inherent disadvantage of a standard desiccant is that it will lose its drying capacity when liquid water enters the dryer; this causes problems for the drying process and negatively affects air quality. Cerades™, however, doesn't encounter this issue and retains its drying capacity – even when wet.
Environmentally Friendly

. As loose desiccant decays, it releases a fine dust into your air system — which creates a requirement for extra filtration and maintenance, as well as adds to service costs. The dust is also a health and environmental issue, given that it circulates in the ambient air during desiccant replacement. Cerades™ desiccant does not have this problem, delivering ISO 8573-1:2010 Class 2 air purity for particles without any extra filtration.

Stable PDP (Pressure Dew Point)

. When it comes to purging, whether a solid or bead desiccant, you want your purge rate to be between 15-20%. Cerades™ hits this mark, achieving a rating as low as 16%. Dew point ratings impact the efficiency of the purge, and dew point controls affect the airflow and amount of air being dried. With Cerades™, if you are not using a PDP (pressure dew point) sensor, it will continuously dry the air to the required PDP, improving its efficiency. It maintains a constant dew point, alleviating decay over time, protecting air quality, and extending the service intervals.
Want more information on Cerades™, structured desiccant, or desiccant dryers? Visit us at www.atlascopco.com/air-usa!