Did you know that Atlas Copco is a major player in Process Filtration? We understand that process filtration is the key to minimizing contamination and ensuring reputation.
What is Process Filtration?
Process Filtration is the filtration of fluids or gases used directly or indirectly to make or protect a product, removing particles or microorganisms from a finished product or a fluid like water or air.
This process can include consumable liquids such as wine, beer, cider, bottled water, soda, milk, or non-consumable liquids like process water, alcohols, inks, solvents, resins and oils, or gasses such as compressed air, carbon dioxide, nitrogen, and others.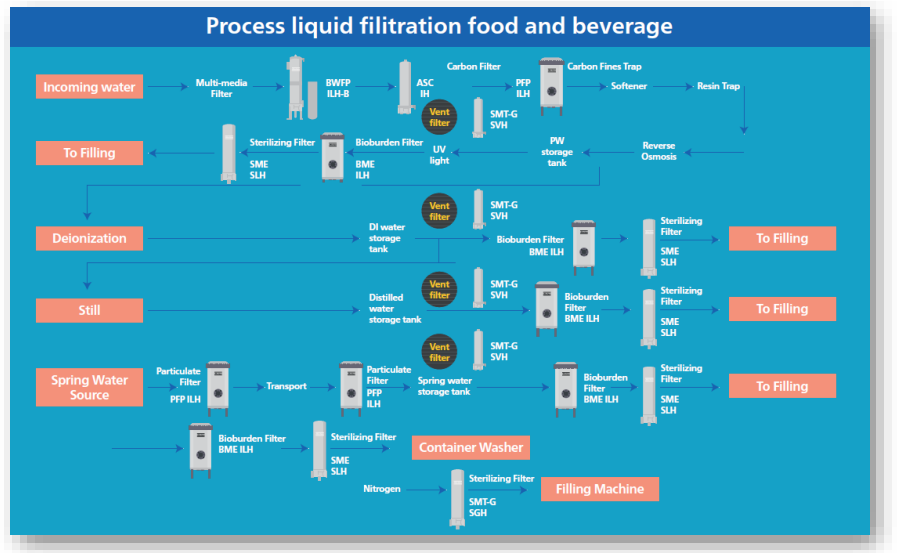 When do you need process filtration versus utility filtration?
Utility Fluid does not come into direct contact with the product (in normal operation) and is not input to the product.
Process Fluid does come into direct contact with the product and/or is an input to the product or is the product itself, such as in the case of bottled water.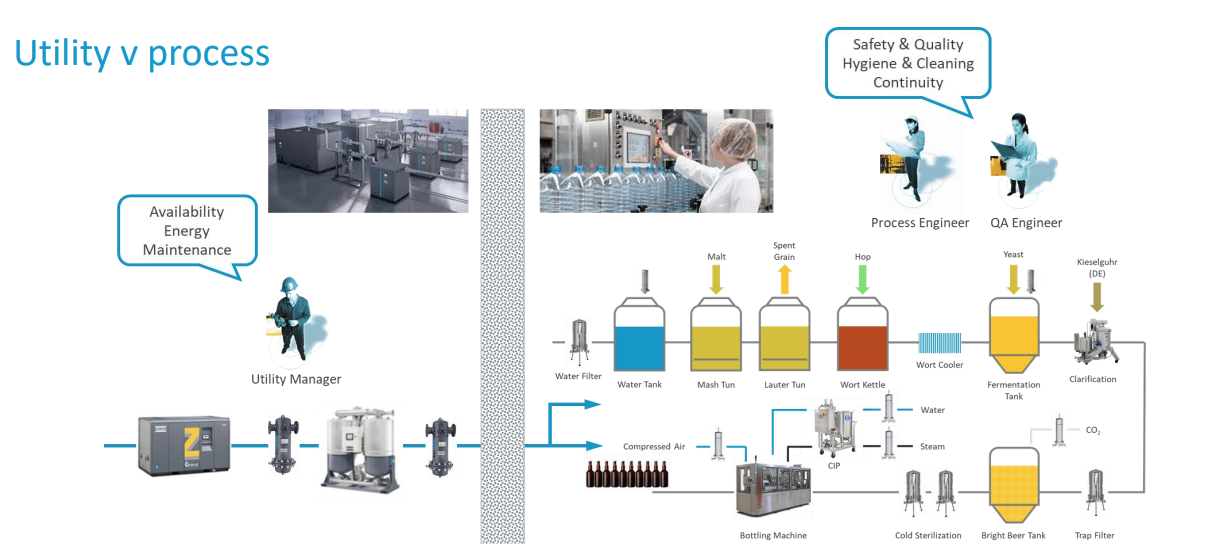 Installation
When it comes to installation, we have a team of experts that will determine where to place your process filtration equipment. Generally, we start at the point of use and expand from there. It is important to know that just like any filter in your house or vehicle, they need to be serviced regularly.
What happens with the wrong filtration choices?
Your product can spoil – with contamination comes the increased risk of the product spoiling.
Loss of brand reputation – when brands need to recall a spoiled or contaminated product, it can affect the brand reputation, contamination can also affect the final product and a less than perfect product can also hurt a brands reputation.
Downtime – When contamination/particulates get into your compressed air system, it can create issues within the system causing it to need to be serviced or even breaking it, creating unnecessary downtime.
Damaged equipment – Similar to the above downtime, damaged equipment can lead to increased costs to either repair or replace the equipment that has been damaged.
In the end, filtration is not a fit and forget system, maintenance is essential to keep it up and running. When it comes to the food industry, the pharmaceutical industry, and many industrial applications it is necessary to create a consumable and usable end product.
Have questions? Reach out to an expert today.